Natural Resources
Saving resources produces value for the company.
OVS has used The Natural Step's Sustainability Life Cycle Assessment to scientifically analyse its overall impact in order to make effective changes in all areas, not just those related to product development.
"We have created an innovative programme guided by sustainability principles, which touches all bases: from corporate culture to design and product, from materials to the supply chain, and from logistics to sales outlets," states Stefano Beraldo, CEO of OVS SpA.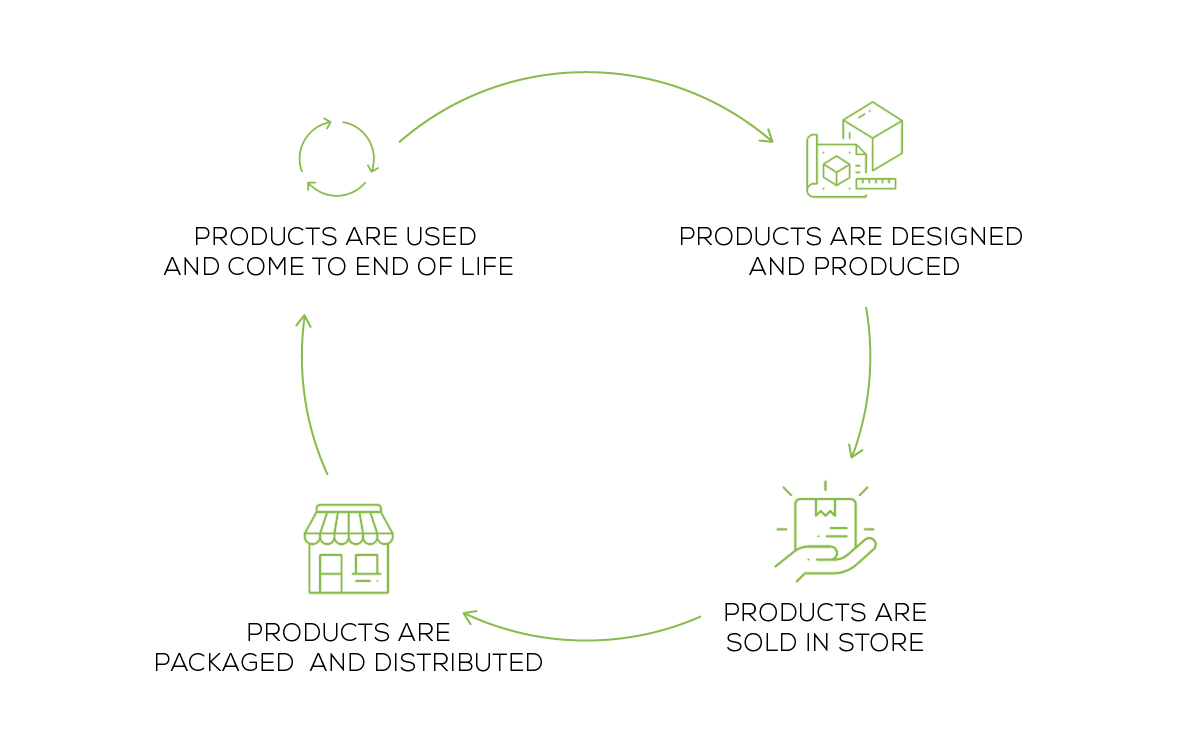 Environmental Management System
To guarantee a management of the company dynamics with a direct impact on the environment, OVS has implemented a management system in line with ISO 14001:2015.
OUR IMPACT
The majority of supply chain impact in terms of water and energy consumption are related to the supply chain, that are tracked by the Higg modules completed by our suppliers.
Energy consumption and CO2 emissions
The energy consumption from suppliers for which we have verified information, equal to 71% of the production volume, was 783,810 GJ in 2022, compared to 1,084,023 GJ in the previous year.
We have estimated that only 0.20% of the production volume is powered by coal and all in Pakistan.
We are committed to only using renewable energy and eliminating waste throughout all company departments and eliminate or offset all direct and indirect emissions by 2040.
100% OF THE ENERGY THAT WE USE IN OUR HEADQUARTERS AND IN ALL OUR STORES IN ITALY IS ALREADY CERTIFIED RENEWABLE AND, FROM 2016 TO 2019, WE HAVE REDUCED OUR SCOPE 1 AND 2 EMISSIONS BY MORE THAN 85%.
Since 2021 we are committed to a reduction of 46,2% carbon emissions, a target that was approved by SBTi. For more information see Carbon Footprint page.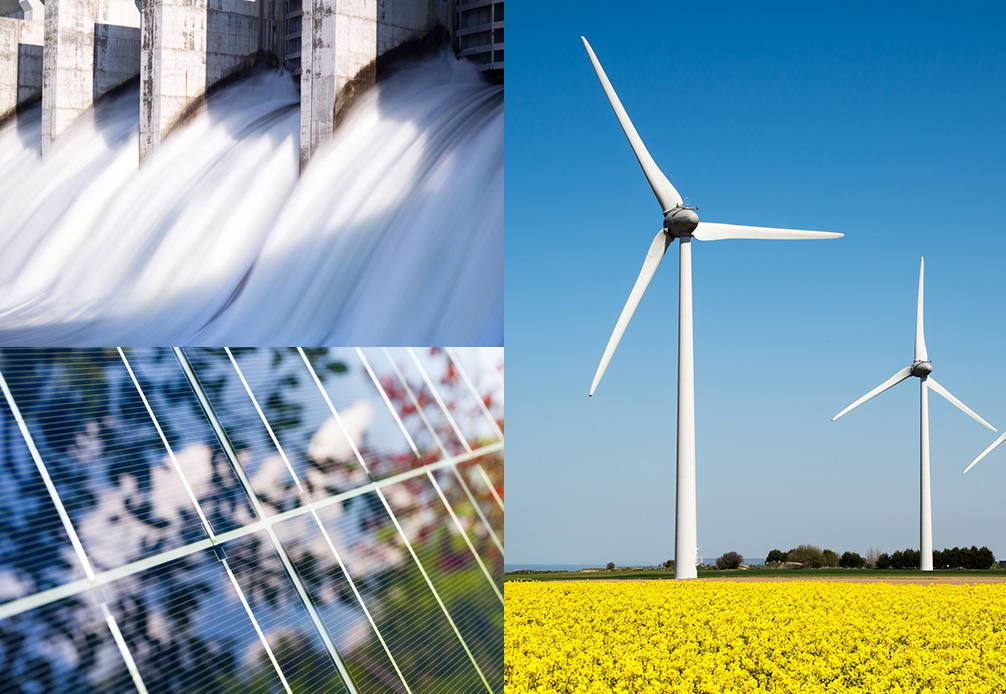 To encourage the use of renewable energy and adopt the best solutions to reduce emissions across our supply chain, we have launched a supplier engagement scheme that allows us to analyse the emissions produced by each individual production source. As a result, we have improved our knowledge of emissions sources and have partnered with a consultancy firm to help our suppliers define reduction plans that comply with our decarbonisation targets.
Water consumption
The direct use of water by OVS is very limited, as we do not directly manage production activities. However, we have launched a staff awareness program that includes posting communication materials specifically designed and placed in areas where most water is consumed (snack areas, bathrooms, ...). In its first year of application, the campaign has made it possible to reduce water consumption by 23% compared to the previous year.
On the other hand, with regard to the water used in our supply chain, we have estimated the consumption generated in the year by applying the ReCipe2016 calculation method, forms the basis of our ECO VALUE calculation. We consume approximately 87 million m3 of water each year (43% when producing raw materials and 57% in subsequent processing activities).
Such an amount of water, while consistent with industry data, requires special attention and prioritization of initiatives for its reduction. For this reason, in identifying actions in response to risks, we analyze quantitative and qualitative impacts through the tools made available by the World Resources Institute (Acqueduct Water Risk Atlas Overall Water Risk - www.wri.org).
More specifically we identified Bangladesh as the most vulnerable in relation to water quality and water quantity risks because of the large volume of production of denim that requires huge amounts of water. This required a specific production strategy that led us in 2021 to have more than 40% of denim made by suppliers with ETPs that have waste water filtering and recycling systems, and innovative dyeing systems that use less water. (See further information in this section).
Overall we work to reduce our water consumption along the entire supply chain on a daily basis in the following ways:
preferring raw materials with low impact on water scarcity, we encourage our suppliers more water-efficient by collecting consumption data and defining specific targets of improvement and the actions required to achieve them;
we support our suppliers by consolidating our production to enable the investments required to install water recycling systems to be used in their manufacturing processes and in their factories in general.
We are Italy's largest retailer and have a network of around 1,800 shops worldwide. Our shops are also where we come into contact with our customers, where we promote our values, and where our sustainability choices become concrete.
WE HAVE DEVELOPED AND APPLIED AN AGREEMENT REGARDING STORE CONSTRUCTION AND MANAGEMENT IN ORDER TO REDUCE OUR ENVIRONMENTAL IMPACT
When fitting our stores we favour more sustainable materials, such as FSC-certified wood and recycled metal.
WE CONTROL CONSUMPTION VIA A CENTRALISED SYSTEM THAT ALLOWS US TO REDUCE MANAGERIAL INEFFICIENCIES AND WASTE
We installed a centralised system that controls energy consumption and costs, so that we can monitor usage in each of our stores on a daily basis. In fact, we have developed a web-based platform that can track hourly energy consumption, comparing stats with the previous year and thus detecting if there are any unusual spikes in energy consumption.
The ease and speed with which we are able to analyse data means that we can quickly report any issues to the store in question, allowing the manager or maintenance technician to intervene where necessary.
WE HAVE INSTALLED LED LIGHTING SYSTEMS IN ALL OF OUR NEW STORES, RESULTING IN A 30% REDUCTION IN ENERGY CONSUMPTION THROUGHOUT MOST OF THE CURRENT SALES NETWORK
Installing LED lighting results in more efficient energy conversion into light compared to traditional lighting systems. LED lighting also prevents heat from being released into the surrounding area, thus reducing the need for additional air conditioning costs. Replacing light bulbs with LEDs in our new stores has resulted in an overall saving of 9,600 tons of CO2, that's equivalent to the emissions generated by travelling the world about 1,200 times by car.
WE ACTIVELY INVOLVE STORE MANAGERS WITH INCENTIVES THAT RAISE AWARENESS ON ENERGY SAVING
A key factor in our energy saving programme's success was empowering and actively involving in-store teams by: sharing best practices, providing store managers with specific training, creating incentives and commitment recognition initiatives and sending a quarterly email on energy consumption trends at each store, as well as a list of changes that have been made.
PACKAGING
We believe in adopting a circular model to enhance the value of our products, materials, and resources, by ensuring they stay useful for as long as possible, thus minimising the production of waste.
OVS has worked to make changes to the life cycle of the packaging used during logistics so that it can be reused several times over during distribution processes, thus generating value and reducing waste. We design our packaging to reduce paper waste during production.
During 2020, our RIUTILIZZAMI programme allowed us to reuse 1.697.473 boxes from suppliers, equal to 62% of those received. This permitted OVS to limit the number of new boxes purchased saving approximately 1,425 tonnes of paper.
We have also launched a wooden pallet reconditioning process at our Pontenure warehouse. Our employees repair damaged pallets, which ultimately prevents them from being thrown away.
OVS has devised a plan to eliminate the use of virgin plastic in all logistics packaging by 2025.
TOWARDS A PLASTIC-FREE WORLD
At OVS, we manage our clothes hangers as part of a closed loop, analysing every possibility to intervene throughout their life cycle. We have chosen to make our hangers from recycled materials and have designed them so that they can quickly be broken down into separate components, thus minimising the use of raw materials.
To ensure that we can manage this process as well as possible, we do not deliver hangers to our customers. Instead, we collect surplus hangers from our shops, in cooperation with a partner, and reuse them. If they are damaged, we recycle them to make new hangers, which are then sent out to our warehouses and shops. In 2021 , we recycled about 228,000kg of plastic hangers.
Even the hangers we import through product suppliers are made entirely from recycled and recyclable material.
In 2021, OVS extended its commitment to reducing waste by eliminating single-use plastic from its product packaging. Where this was not possible, we redesigned it to have less impact, replacing it with 100% recycled plastic.
Thanks to this approach, in 2022 all the residual plastic in our packaging is 100% recycled plastic.
We are working to find innovative solutions to reduce or eliminate packaging where it is not necessary. In AW2021, we launched our Do Less To Do Better collection, which does not use any tags or labels, thus "dematerialising" all consumer information.
100% of our paper packaging (shopping bags, hang tags, shipping materials, etc.) is made from FSC paper or FSC recycled paper.
Behaviour
We have launched an initiative to raise staff awareness on environmental issues at our head office, as well as an operational changes plan that lists actions that have already produced results, such as the following:
EMPLOYEE CAR POOLING, TO INCREASE LIFT SHARING WHEN TRAVELLING TO AND FROM WORK
Unfortunately, due to COVID-19, we have suspended our car-pooling app for safety reasons.
However, we continue to encourage people to cycle to work or use other means of micro-mobility by giving a €250 voucher to any head office employee wanting to start using a more sustainable means of commuting to work.
In 2021, dozens of colleagues started cycling to work, making more than 1,600 trips and saving almost 1 tonne of CO2.
WE HAVE DISTRIBUTED CARBON-NEUTRAL STEEL WATER BOTTLES TO ALL EMPLOYEES AND HAVE ALSO INSTALLED MICROFILTERED WATER DISTRIBUTORS TO HELP REDUCE THE CONSUMPTION OF PLASTIC BOTTLES
The steel bottles in question come from 24Bottles, an Italian design brand founded in 2013 with the aim of reducing the impact of single-use plastic bottles on the planet and our lives. The ecological impact of producing water bottles, packaging and transport is compensated, then offset through reforestation projects in Italy and abroad.
OUR ISLAND NETWORK HAS BEEN EQUIPPED FOR SEPARATING AND RECYCLING WASTE PRODUCED BY OVS
In 2021, 83% of the waste produced on site was sent for recycling.