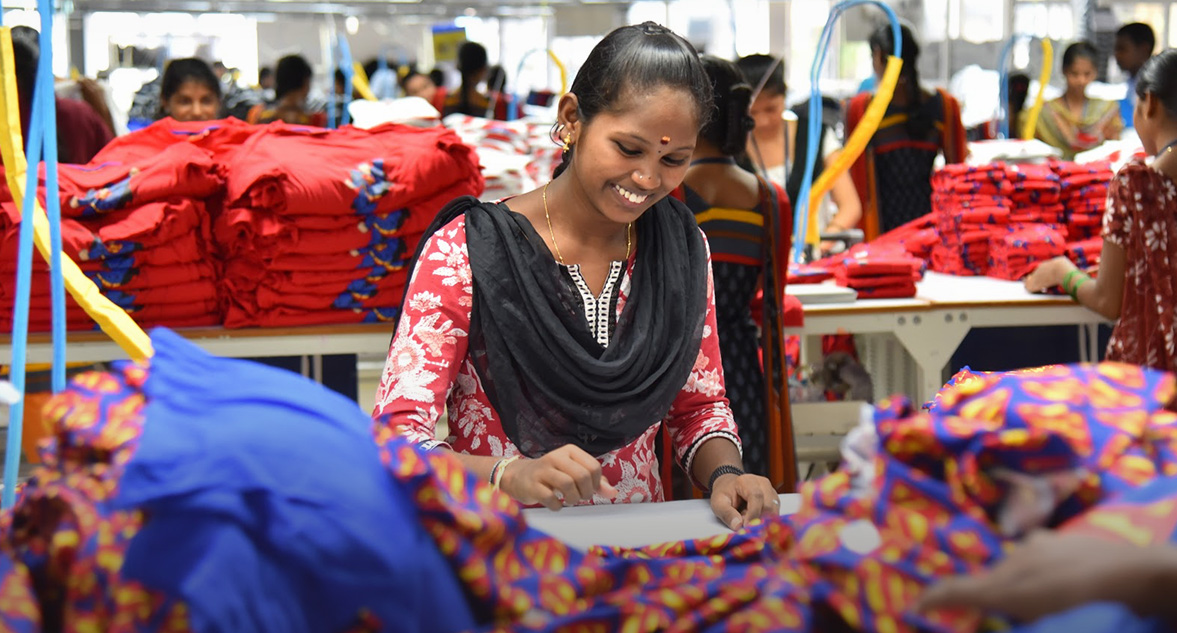 Responsible Manufacturing
We count on thousands of people, and they count on us.
Thousands of people are involved in producing our garments, a job that offers stable employment opportunities in countries where the textile industry is the biggest driving force for development. We guarantee the very best standards on human rights and working conditions and collaborate with our suppliers to continuously improve their practices and technology, so that we can help produce a positive impact in the countries where we operate.
Our Code of Conduct lists the values that inspire all of our actions, as well as a set of operational guidelines on social, environmental and transparency issues. We only work with companies that share and abide by our values, with the hope that our guidelines are used as a tool for continuous improvement rather than a mere list of directives.
OUR CODE OF CONDUCT IS A SET OF BINDING GUIDELINES REGARDING THE ENVIRONMENT, COMMUNITY AND PERFORMANCE IN ORDER TO IMPROVE SUPPLIER TRANSPARENCY AND SUSTAINABILITY LEVELS OVER TIME.
Our Code of Conduct ensures that everyone takes responsibility in the creation of an ethical circle at an economic, environmental and social level, contributing to improving working conditions with positive effects on local communities.
All suppliers who work with OVS are required to sign the Code of Conduct.
Each supplier is sent a graphic document to hang on their company's premises, translated into the local language, that summarises the main point of the code of conduct to be followed to so all workers are aware of their rights. (Link at bottom of page for download)
The actual placement of the document is verified by our staff during visits to the factory. The local language document sets forth the email address for workers to make reports. During 2020, one report was received from a generic email address and lacking of minimal information content for which additional information was requested. However, the reporter did not provide any further feedback.
When evaluating our suppliers, we give as much importance to sustainability as we do to our primary assessment criteria (Quality, Service and Cost).
With a view to transparency and collaboration, we openly share the results of our assessments with factories, in order to identify areas for mutual improvement. We pair our Vendor Rating system with an audit initiative, which is carried out in several different areas in order to verify effective compliance with our Code of Conduct and to measure our suppliers' environmental and social performance.
In general OVS does not allow the use of sub-contracting except in cases where this is expressly authorized. In order to maintain control of this constraint, OVS each season collects from each supplier a map of the production sources used both for the packaging processes and for the main production phases and the most important raw materials. After that, OVS sends inspectors to check the quality and progress of production.
SUPPLIERS EVALUATION
Since 2020, each new supplier is confirmed only if they share their data on the online HIGG Index.
Before starting the supply and then every 12/18 months (unless a higher frequency is required), every factory is evaluated with respect to its compliance with the code of conduct and its environmental / social performance. All of our audits (588 in 2020) are semi-announced, agreeing on a time window for audit activity but not specifying a visit date. The integrated supplier assessment is carried out using all available information gathered through certificates issued by independent third parties, analysing the performance data on HIGG and considering any reports received from trade unions or other associations.
This information is supplemented by direct checks by our staff and / or external auditors. If critical issues are identified, an action plan is agreed upon with the factory managers to fix them.
In any case, any critical issues identified are shared with workers' representatives to keep them informed of developments and to receive any feedback
In 2020, through this programme 72% of suppliers representing 91% of production were evaluated and it was possible to gain a greater understanding of our suppliers' organizational structure.
The average aggregate score obtained through HIGG vFEM is 51%, while for the social assessment (HIGG vFSLM) is 80%.
From a social perspective, OVS' Supply chain (represented the following table) shows more than half of the workers in the textile industry are women, but this majority is unbalanced in favor of high male percentages in supervisory and managerial roles.
| | Males | Females |
| --- | --- | --- |
| Workers | 31% | 69% |
| Assistants | 68% | 32% |
| Supervisors | 82% | 18% |
| Line Chiefs | 82% | 18% |
| Support personnel | 81% | 19% |
| Cleaning | 54% | 46% |
| Administration & Management | 73% | 27% |
OVS is convinced that gender equality is a real need within the Supply Chain and for this reasonit the support of any project aimed at sustaining women's< education and empowerment, which can open up other job opportunities than the current situation.
PURCHASING PRACTICES
OVS adopts responsible purchasing practices throughout its supply chain to reduce any negative social or economic impact on the industry workers, always paying attention to agree conditions with the supplier so that they operate safely and consistently with the various compliance requirements (for example: avoiding changes of orders when in production, paying the amount due with the agreed terms, etc.)
However, in 2020 due to the effects of the Covid-19 pandemic, orders already issued to the supplier amounting to 16% of the quantity ordered have been modified in the payment terms.
The 67.7% of the volume purchased is paid through Letter of Credit which allows the supplier to finance itself at banking institutions to cover the cost of purchasing materials. On average, the number of days in which the payment is completed was 116 days in 2020.
During the last survey on the level of satisfaction in the commercial relationship with OVS (considering payments, timely payments, ease of communication and proper production planning) 93% of suppliers declared themselves Satisfied or More than satisfied.
By using the online HIGG platform we can effectively analyse the performance of most of our suppliers, with the aim of acquiring 100% of our products from suppliers on HIGG, by 2022. In 2020, the production volume from suppliers on HIGG was approximately 80% of the total value of the collections.
Thanks to the information provided in the platform we can identify priorities for action and support them in making positive changes, with the help of third party verification and the definition of action plans where necessary.
SALARY CONDITIONS
We are committed to promoting decent working conditions and ensuring that a fair wage is paid to workers so that they can face the real necessities of life, anywhere in the world. We regularly analyse the salaries paid by our suppliers through surveys and checks on site, comparing them to benchmarks, such as the Global Living Wage Coalition, to identify opportunities for improvement.
OVS is working to improve the quality of available data in order to allow for a more accurate analysis of wage conditions in its supply chain. At present, from our analyses, it results that 79% of workers are paid by bank transfer, no worker is paid below the legal minimum wage and, in addition, 70% of workers are paid an average of 33% more than the minimum guaranteed by law.
We are aware that in some situations this salary threshold may be lower than the Living Wage benchmark, and for this reason we have taken specific steps to analyze the data more effectively, integrating into our supplier assessment program an analysis dedicated to the salaries actually paid to workers and comparing them to the Global Living Wage Coalition benchmark.
A more detailed analysis of a sample of 30 of our suppliers in India, with a total workforce of 9,551 people, found that 38% of workers were paid more than the legal minimum wage but around 10% less than the living wage.
We believe that collective bargaining and active participation mechanisms are the efficient tools in the hands of works to achieve a level of pay and working conditions consistent with their needs. For this reason we are committed to ensuring that all our suppliers, by 2030, have adopted programmes for the activation of democratically-elected worker representation bodies and a system of collective bargaining that gives workers the opportunity to align their pay to a wage level consistent with the actual cost of living..
Based on the data analysed in 2020, we have estimated that 53% of our suppliers have representative organisations democratically elected by workers (trade unions or WPC) and 29% use collective labour agreements.
FORCED LABOUR
OVS has decided to join the call to Action STOP Human Rights Abuses in Uyghur Region, promoted in Italy by Clean Clothes Campaign.
The program provides for the suspension of all activities in the region of Xinjiang with the aim of raising awareness and requesting the Chinese government and Chinese companies concerned, the implementation of significant changes regarding the protection of Human Rights and the permanent cessation of forced labor.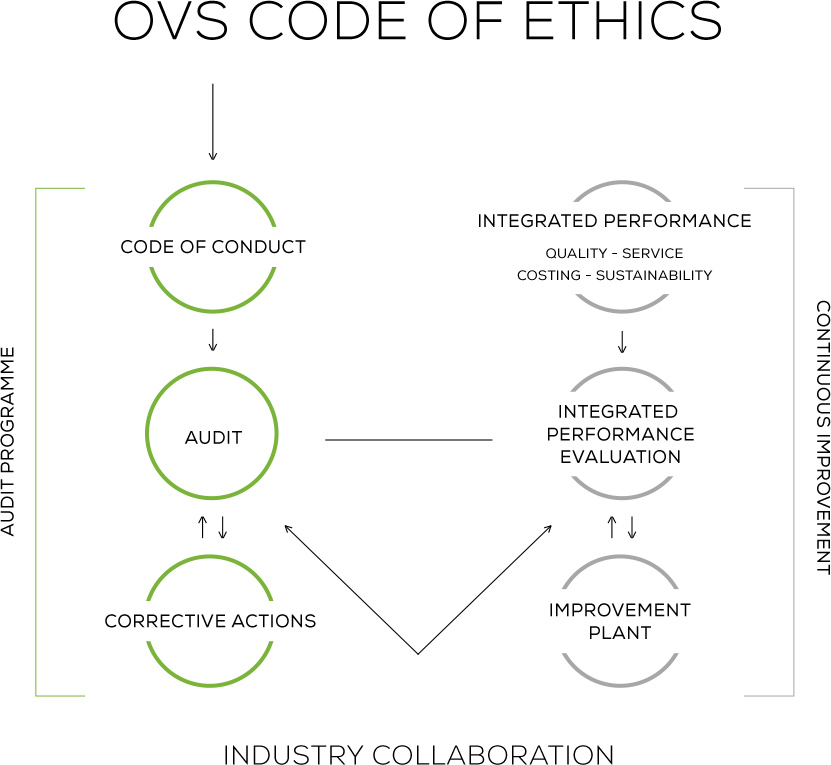 INDUSTRY COLLABORATION
Contributing to profound change in the sector means embracing a team logic that involves all market players, promoting development projects that affect the entire fashion industry.
With this in mind, we were the first Italian company to join the Sustainable Apparel Coalition.

The Sustainable Apparel Coalition is a progressive clothing, footwear and home-furnishing alliance, founded with the aim of promoting sustainable production.
We work with the Sustainable Apparel Coalition to create tools that measure environmental and social performance in the supply chain and raise transparency standards for the benefit of all stakeholders.
Since 2017, OVS has adopted HIGG Facility Tools, the digital platform of assessment tools in the clothing and footwear industry, developed by SAC to encourage the sharing of information with other companies in the supply chain.
Through the HiGG Facility Tools FEM (Facility Environmental Module) and FSLM (Facility Social Labour Module) online questionnaires, we measure the social and environmental performance of our suppliers' facilities in order to improve the impact generated during production.
In line with our own principles, the Group's Code of Ethics and a range of global sustainable development goals, we're attempting to build a reliable supply chain that respects the basic principles of dignity, health and safety of workers in countries where we operate, but primarily in Bangladesh, where OVS's main production site is located.
In addition to our standard supplier practices, we have participated in drafting an agreement (Accord) on fire and building safety in Bangladesh in order to ensure the necessary safety conditions for our workers.

Accord is a legally binding agreement between brands, manufacturing companies and local trade unions in order to promote greater health and safety in Bangladesh's clothing industry, helping to create a safer working environment and prevent risks.
https://bangladeshaccord.org/
Here attached the OVS' suppliers lists. The information in the documents are reported with all available details and subject to continuous updates and integrations.