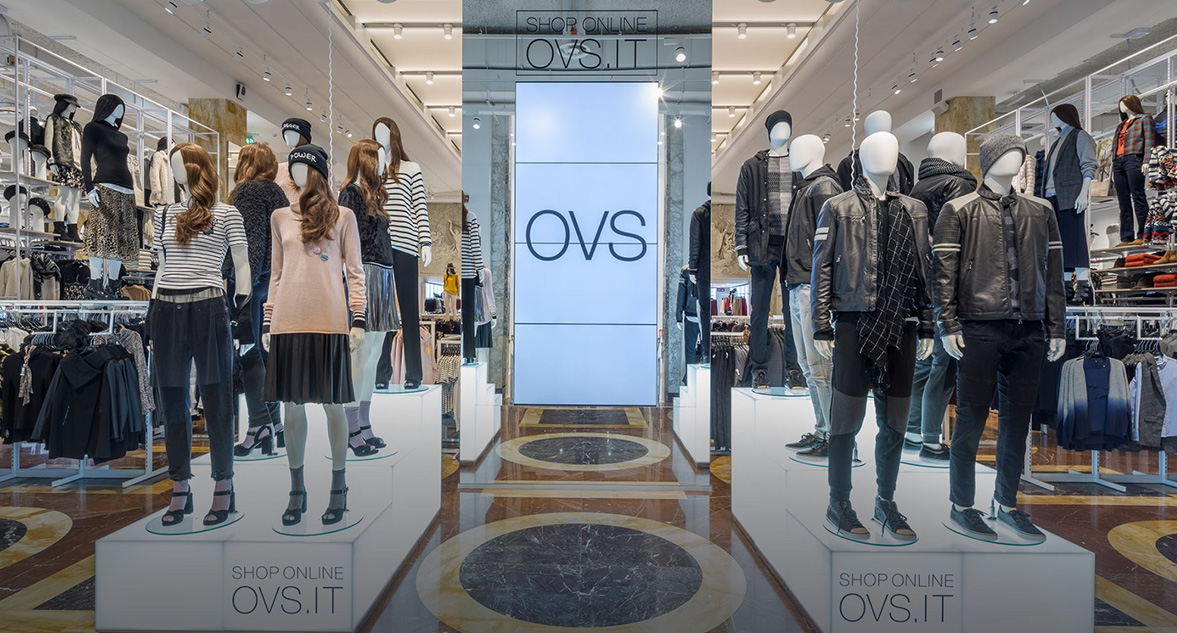 High-Value Garments
Quality products mean quality lives.
People love fashion because it's all about creativity and self-expression. At the same time, it is estimated that the textile industry consumes around 132 million tonnes of coal and more than 6,000 billion litres of water a year. (Rupp, Jurg, "Ecology and Economy in Textile Finishing," Textile World)
That's why we're committed to combining our strong creative drive with an environmentally friendly approach. Innovation in the name of sustainability allows us to come up with new solutions without creating problems for future generations, encouraging us to develop better products by using materials and production processes that do good.
We want sustainability to be an element that characterises all of our products, not just something limited to a capsule collection. That's why we are constantly working to find solutions that we can apply to all of our collections, with the hope that they will contribute substantially to OVS' improvement.
Sustainable Design
It is estimated that 80% of a product's impact is determined during the design phase.
That's why we have applied scientific methodology developed by The Natural Step – an international NGO committed to sustainable innovation – to measure and improve the sustainability of our products throughout their life cycle, from the choice of materials, to production processes and what happens to them once they're worn-out.
Right now, companies are facing an important dilemma: on the one hand, industrial systems are demanding more resources, and on the other, natural resources are declining, as is the earth's capacity to regenerate itself.
Product development is a process that is strategically integrated with the principles of sustainability. In the periodic analysis of company risk, great attention is given to those potential areas of impact that are more directly tied to our products. Thanks to this integrated approach we ensure a constant and attentive improvement of the environmental and social performance of our products, measuring their impact and publishing it through ECO Value
The main risk categories linked to product development regard water consumption, CO2 emissions and the use of harmful chemicals.
As part of our response to the identified risks we chose to implement solutions that covered our entire collection
Cotton: see the dedicated section of the website
Synthetic materials: much of the company's carbon footprint comes from emissions caused by the production of the materials used. For this reason, in 2018 we established a procurement policy that favours recycled synthetic materials with incremental goals over time, from around 400,000 garments to more than 1 million garments in 2020 made from recycled polyester.
Our goal is to replace 100% of polyester and polyamide with recycled materials or biodegradable alternatives by 2030.
Have have also chosen to support the preservation of marine biodiversity through recovery of fishing nets by volunteer divers as part of the Healthy Seas initiative, with the aim of creating recycled polyamide to be used in our collections. In 2020 we created an "Ocean Care" swimwear collection with regenerated yarns and we are considering possible further developments in other product categories.
Denim: thanks to the precise identification of the risks associated with the use of potassium permanganate (a substance that is dangerous for the environment and people) in the production of jeans, we have identified actions for its elimination: the use of laser systems and/or with biodegradable enzymes. Since 2019, 100% of our denim is made without potassium permanganate. Also, in response to the water consumption reduction requirements, we have defined a plan for the use of processes with reduced water consumption for 100% of our denim by 2025. In the Fall/Winter 2020 collection, 34% of our denim assortment is made with water-efficient systems using technologies such as reverse osmosis systems to recycle wastewater, reduced liquor ratio jet dyes and/or ozone bleaching.
Cellulosic Materials: forests play a crucial role in preserving biodiversity, removing carbon dioxide from the atmosphere and providing livelihoods, especially in poorer countries. Wood is closely linked with the fashion world as a basic material in some products, and over time an unsustainable pressure on forests may be created. A significant percentage of our products' fibres are made from this material. OVS does not intend to contribute, even indirectly, to a non-sustainable, or even destructive, management of the remaining forests. For this reason we are working with our suppliers to ensure that the cellulose-based synthetic materials that we use gradually come from FSC or PEFC certified sources, with goal of 100% by 2030, and we have chosen to promote organic cotton farming to preserve land and biodiversity.
WECARE CRITERIA
We want sustainability to be a defining element of all our products, starting with the materials for our entire product portfolio not just for our capsule collections. With this in mind we work to identify solutions that can be applied pervasively to our collections and contribute substantially to our constant improvement.Our commitment is to "create products that have a positive impact on the world and the people who inhabit it, minimizing the consumption of natural resources and taking care of the people who work throughout the supply chain."
Products made consistently with this goal are classifiable as "#wecare Products." In order to identify #wecare Products, it is necessary to ensure that at least one of the following 5 evaluation criteria is met, referring to:
1: Sustainability of the main material


2: More sustainable origin of the certified material


3: Sustainability of processes


4: Certifications related to the finished garment


5: Garments from projects with ethical value


Find out all the criteria at the following link: WeCare Product Guidelines
Product Checks
We test the safety and quality of all our products.
All of our garments are physically and chemically tested so that they respect company limits on the use of potentially dangerous substances. In fact, the limits we voluntarily enforce at OVS SpA are more restrictive than those required by international laws. (Download our Restricted Substance List to learn more).
In addition, we have also activated a second level of guarantee through a due diligence on garments randomly picked out by a third party in store to be subjected to chemical and physical tests as a further verification of compliance with our RSL.
As well as the tests carried out directly, we also certify the absence of toxic chemicals by applying the Oeko-Tex Standard 100 (Class I and II) on more than 50% of our production every year, above all for childrenswear and underwear, guaranteeing rigorous supply chain traceability.
We intend to act decisively towards the definitive elimination of potentially hazardous chemicals by 2030.
To achieve this, we have added a dedicated section to our OVS Code of Conduct that requires our suppliers to comply with the ZDHC mRSL for substance limits in wastewater.
To make this commitment a reality, OVS has set up a supplier monitoring scheme to collect data and review tests performed on wastewater. If critical issues are detected, we collaborate with our suppliers to find the root cause of the problem and identify solutions.
STANDARD 100 by OEKO-TEX®
The STANDARD 100 by OEKO-TEX® is an independent and international test and certification system applied to raw materials, semi-finished and finished textile products in the processing phase. Additional materials are also tested.
OEKO-TEX® checks for toxic substances by taking a fabric's intended use into consideration. The closer the contact between a garment and skin, the more restrictive the test and human-ecological requirements.
The product classes are divided as follows:
Product Class I

Garments intended for babies and small children of up to 3 years (underwear, baby grows, clothing, sheets, sponges etc.)

Product Class II:

Garments that come into close contact with the skin (underwear, bedding, t-shirts, socks, etc.)

Product Class III:

Garments that do not come into close contact with the skin (jackets, coats, etc.)

Product Class IV:

Decorative/furnishing materials (curtains, tablecloths, upholstered furniture, etc.)
STANDARD 100 by OEKO-TEX® requires a garment's individual components to meet a certain set of criteria. This also includes external materials, such as sewing threads, padding and prints, and non-textile accessories, such as buttons, zips and studs.
Other requirements include the existence and application of company management and quality protection procedures and legally binding company commitment and compliance declarations.