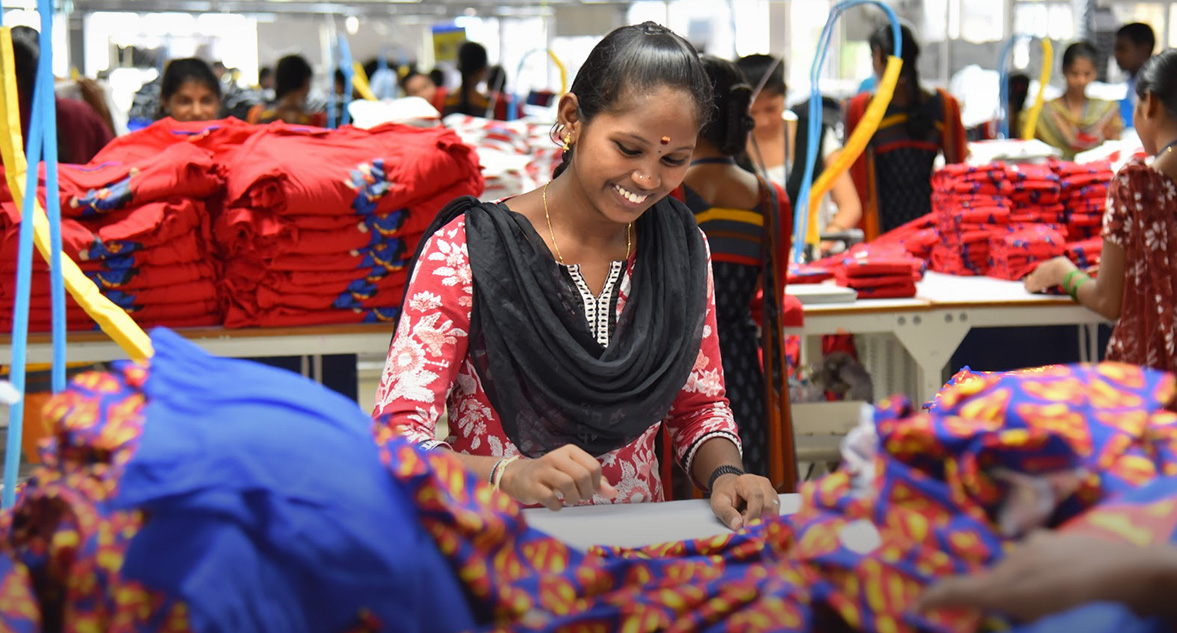 Responsible Manufacturing
We count on thousands of people, and they count on us.
Thousands of people are involved in producing our garments, a job that offers stable employment opportunities in countries where the textile industry is the biggest driving force for development. We guarantee the very best standards on human rights and working conditions and collaborate with our suppliers to continuously improve their practices and technology, so that we can help produce a positive impact in the countries where we operate.
Our Code of Conduct lists the values that inspire all of our actions, as well as a set of operational guidelines on social, environmental and transparency issues. We only work with companies that share and abide by our values, with the hope that our guidelines are used as a tool for continuous improvement rather than a mere list of directives.
OUR CODE OF CONDUCT IS A SET OF BINDING GUIDELINES REGARDING THE ENVIRONMENT, COMMUNITY AND PERFORMANCE IN ORDER TO IMPROVE SUPPLIER TRANSPARENCY AND SUSTAINABILITY LEVELS OVER TIME.
Our Code of Conduct ensures that everyone takes responsibility in the creation of an ethical circle at an economic, environmental and social level, contributing to improving working conditions with positive effects on local communities.
When evaluating our suppliers, we attach as much importance to sustainability as we do to our primary assessment criteria (Quality, Service and Cost).
With a view to transparency and collaboration, we openly share the results of our assessments with factories, in order to identify areas for mutual improvement. We pair our Vendor Rating system with an audit initiative, which is carried out in several different areas in order to verify effective compliance with our Code of Conduct and to measure our suppliers' environmental and social performance.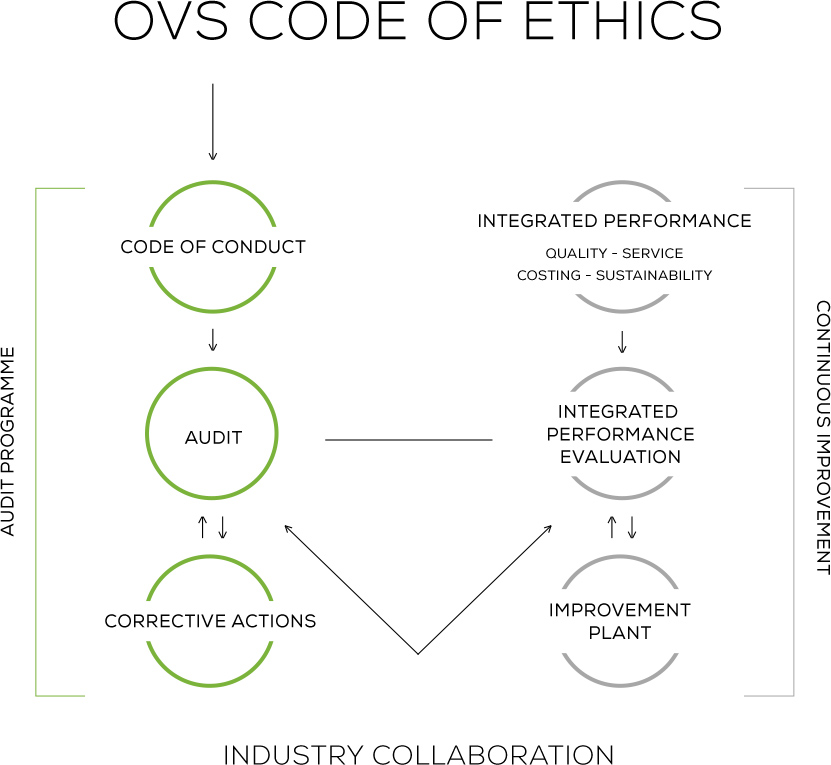 INDUSTRY COLLABORATION
Contributing to profound change in the sector means embracing a team logic that involves all market players, promoting development projects that affect the entire fashion industry.
With this in mind, we were the first Italian company to join the Sustainable Apparel Coalition.

The Sustainable Apparel Coalition is a progressive clothing, footwear and home-furnishing alliance, founded with the aim of promoting sustainable production.
We work with the Sustainable Apparel Coalition to create tools that measure environmental and social performance in the supply chain and raise transparency standards for the benefit of all stakeholders.
In line with our own principles, the Group's Code of Ethics and a range of global sustainable development goals, we're attempting to build a reliable supply chain that respects the basic principles of dignity, health and safety of workers in countries where we operate, but primarily in Bangladesh, where OVS's main production site is located.
In addition to our standard supplier practices, we have participated in drafting an agreement (Accord) on fire and building safety in Bangladesh in order to ensure the necessary safety conditions for our workers.

Accord is a legally binding agreement between brands, manufacturing companies and local trade unions in order to promote greater health and safety in Bangladesh's clothing industry, helping to create a safer working environment and prevent risks.
http://bangladeshaccord.org/
In the production of the collections for the Spring-Summer 2020, OVS Spa has used around 300 suppliers distributed in an articulated and efficient international supply chain.